CQI Overview
Welcome to BGCA's Continuous Quality Improvement toolkit, the first step on your Quest for Quality. Improving program quality requires Clubs and Youth Centers to take part in Continuous Quality Improvement (CQI). CQI is a way of thinking and learning, and a cyclical, ongoing process with three phases: Assess, Plan, and Improve.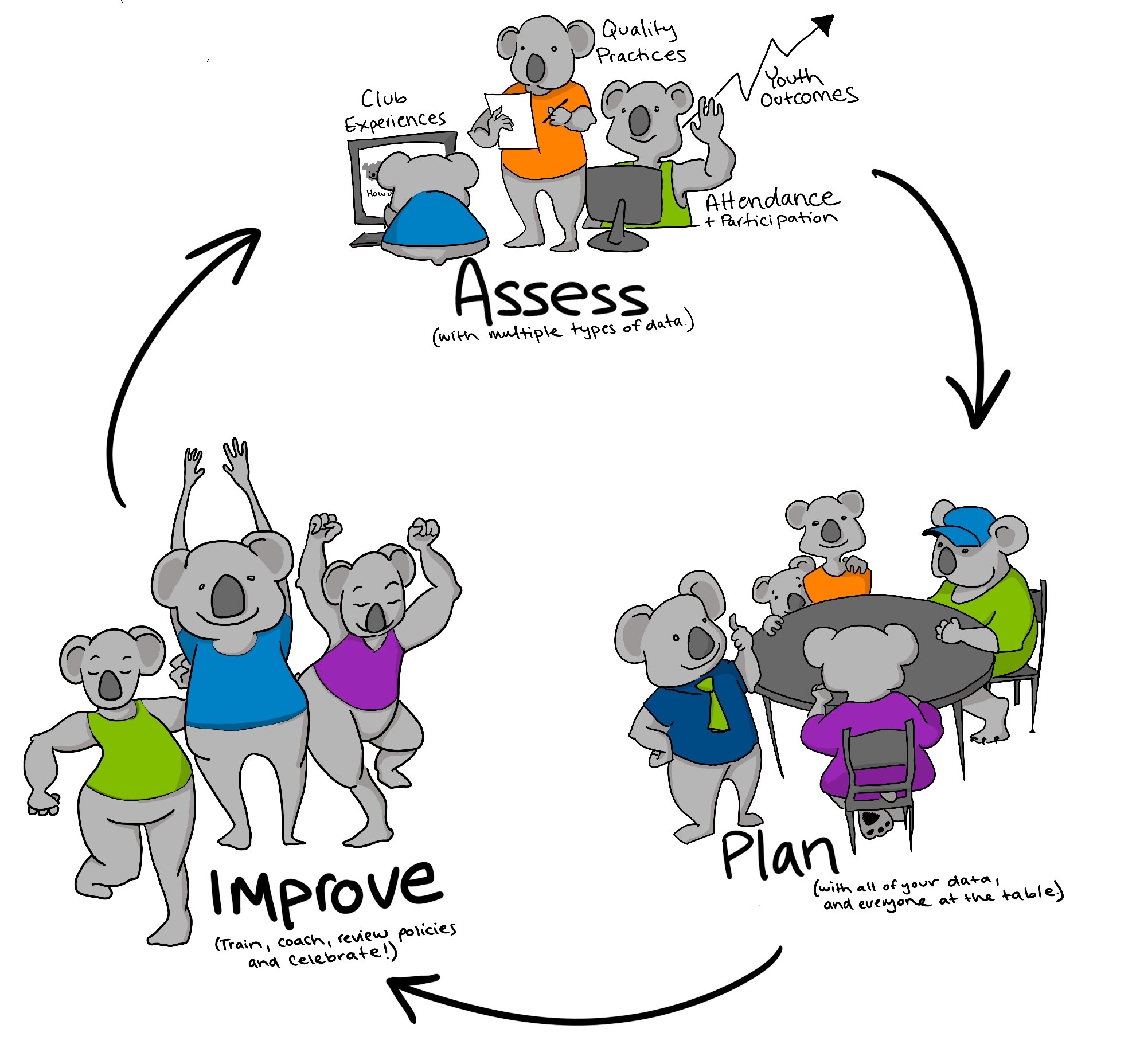 CQI engages your team to foster a culture of learning, with the belief that we can always do better. Every Club or Youth Center, no matter size or resources can make CQI activities part of its practice. Before you begin the process, take a moment to watch the following video.
Continuous Quality Improvement Course
This course will use a research-tested framework for program improvement to explore, as it relates to your Club or Organization, how to define quality, how to tell what is working and what can be improved, how to determine what is happening at the program level and what are youth experiencing, know what are staff experiencing and discover what is happening at the organization and network level.
We recommend taking this course before engaging in your CQI process. To access this course please log into Spillett Leadership University (SLU). Go to the search bar in the top left hand corner of the home page and search: Continuous Quality Improvement. From there you can register for the course and launch it to participate. If you are already logged into SLU please click the link below to be taken directly to the course.
Readiness Diagnostic
Before you begin the CQI process, it's important to prepare by completing the following readiness diagnostic with your supervisor. Together, read each Action and determine where your Club or Youth Center fits best based on the descriptors. Provide supporting evidence as to why you selected your response. When you complete the diagnostic, we will provide you with information to help you improve the quality of your Club or Youth Center.
Guiding Questions
Now that you have completed your CQI Readiness Diagnostic, schedule a time to meet with your leadership team to discuss your results. The document below will provide you guiding questions to help lead your discussion. Use the information gathered in that meeting to help you plan for your CQI process.
Planning for CQI
As you prepare for your CQI cycle use the Roles & Responsibilities Planning for CQI document as a guide. This document provides a general idea of key CQI actions, who is responsible, and a timeline for when it could occur. This is a sample, be sure to use a timeline that works best for your organization.
Organizational Support
Now that you have taken the Continuous Quality Improvement course and completed your readiness diagnostic, it's time to meet with your supervisor and other key stakeholders to outline your CQI schedule and get started. Use the calendar invitation below to schedule your meeting. Use the guiding questions and any other questions you've identified so far to lead this conversation.  Then schedule your start date to begin your CQI journey.
EVENT PLAN
Meeting with Supervisor to Prepare for CQI Cycle
EVENT PLAN
Start Assess Phase
Quality Consultation Request
If you are interested in working with a BGCA staff to assist with your CQI process please use the Consultation Request form below and schedule a CQI consultation.
CQI Training Series
Are you looking to embark on your first Continuous Quality Improvement (CQI) cycle? Have you used the CQI process before, but would like to be part of a CQI learning community and expand your skills? BGCA's CQI Training Series is here to help you along your journey, provide useful resources, and answer any questions that you have along the way.
This course series, structured around the CQI phases, combines instructor-led and self-directed sessions to help you and your Club make the most of their time and resources. See course descriptions, registration links and scheduling information below.